http://kucinich.us/july26.html
COME AND SPEND AN AFTERNOON WiTH DENNiS KUCiNiCH iN LOS ANGELES ON JULY 26TH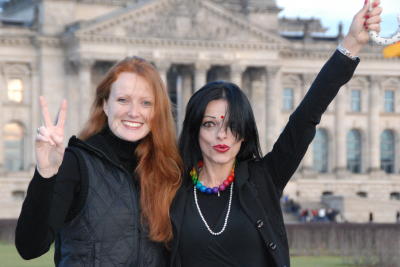 View my page on IntegrityNow

Find more photos like this on IntegrityNow

DENNiS 4 PRESiDENT : AUDiO-ViDEO
Hey ... heute war ich auf einer demo - weil NBC Kucinich erst zu einer wichtigen Praesidentschaftdebatte eingeladen hatte und dann -
schwupps-
wieder ausgeladen !!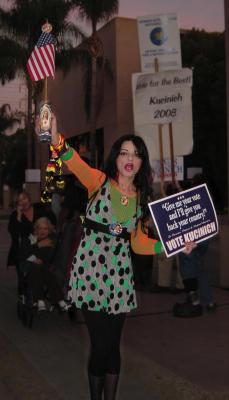 Wir haben vor dem
Jay Leno Studio bei NBC in Burbank demonstriert
und danach war ich bei einem demokratischen meeting ,
wo die Demokraten ihre verschiedenen Kandidaten besprechen , sau-interressant ! Da hab ick mich jetzt als Mitglied einjeschrieben , und ich durfte sogar MiTWAEHLEN ...
es war ein sogenannter STRAW-POLL!
Und dann hab ich die tollsten Menschen kennengelernt - zeig ich Euch dann alles in meiner neuen TV-Schau ! Und auf VideoFreeEarth - ninavision : KUCiNiCH 4 PRESiDENT!
wow

UND im vorigen Eintrag seht ihr -

dass KUCiNiCH JETZT DOCH

WiEDER BEi DER MORGiGEN LiVE-TV-DEBATTE in NEVADA ...

auf MSNBC mitmachen darf !!!

KUCiNiCH hatte Klage eingereicht und jetzt MUSS in NBC mitmachen lassen !!!

Das ist fast so - wie wenn man BUBLATH GEZWUNGEN HAETTE DAZUBLEiBEN !

Aber leider haben wir Herrn Bublath verloren ....

hahahahahhihihihihihihohohohohuhuhuhuhuh

meine stimme wurde auch hier gezaehlt ... bitte macht doch auch mit ! :


vote for your favorite presidential candidate at PickYourPresident.org !

According to the most recent results of this unique online poll of California progressives, Senator Barack Obama and Senator John Edwards are in a tight race for the top spot, with Senator Hillary Clinton and Congressman Dennis Kucinich trailing closely behind the top two candidates.

The lead has already changed a few times and it\s bound to change again. You can see the current results from California (as well as from Colorado, Michigan, Ohio, Washington and Wisconsin) by clicking here:

http://www.pickyourpresident.org/

Time is running out. This Friday, January 18 -- the day before the Nevada Caucuses -- the Courage Campaign will announce the winner of this special poll of California progressives!

Thank you for getting out the vote!


Courage Campaign is an independent political committee and online organizing network empowering grassroots and netroots activists to build a progressive California. In 2008, the Courage Campaign will catalyze action to help Californians elect a progressive President, hold our elected officials accountable, and block Blackwater from building a base on our border.

http://couragecampaign.org
Take this quizzzz - and it will show you which candidate, out of ALL of them, are in sync with your own ideas for the Nation. Very Interesting quiz -- unlike any other quiz out there!! Take it. You'll see:

Match-O-Matic
http://abcnews.go.com/Politics/Vote2008/page?id=3623346

Click here: Strength Through Peace: John Nichols Nails It On Iran and Kucinich
NiNA HAGENs ONLiNE TV-STATION " Ninavision : Kucinich for President !"
PLEASE SUPPORT DENNiS!
SPREAD THE WORD !
NiNA HAGEN BAND & FRiENDS ROCK4DENNiS4PRESiDENT NEW YEARS EVE
at the funtastik united pacific studios in the city of angels !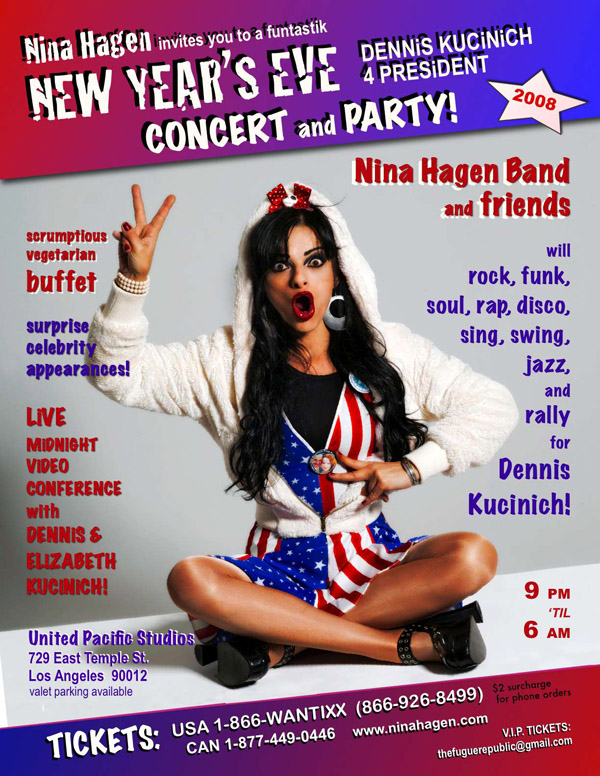 1 877-41 DENNIS ! Grassroots : KucinichOutreach.com "One Flew Over the Kucinich Campaign!"
NiNA HAGEN BAND LiVE ROCKS 4 DENNiS 4 PRESiDENT ON NEW YEARS EVE iN THE CiTY OF ANGELS!
DENNIS KUCINICH for PRESIDENT 2008 ~Integrity, Courage, Compassion~
Democratic Presidential Candidate Dennis Kucinich addresses the 25,000+ crowd at the 2007 School of the America's / Assassins Protest at Fort Benning near Columbus Georgia on Sunday November 18, 2007
http://www.youtube.com/watch?v=bEtFVMAIzBw
Dennis and the Ron Paul Question and a $400 Haircut! Sponsored by the New Hampshire Liberty Alliance: http://NHLiberty.org ... Ridley Report corners Dem. prez candidate Dennis Kucinich and asks: "If you lose, and Ron Paul asks you to be his Veep candidate, what will you say?"
http://www.youtube.com/watch?v=A6WfgL_ezPE
Global Warming and America's Energy Future--a Presidential Forum!
http://www.youtube.com/watch?v=53mNwgKg3pQ
1 877- 41 DENNIS
Is this the Future of Western Civilization?
video clip from Senator Mike Gravel (D):
VETERANS FOR PEACE ADVISE TO SOLDIERS :
JUST SAY NO ! !
YOU ARE OBLIGED TO DO SO & HAVE THE RiGHTS!!